It might drive some people up the walls to live with indoor skateboarders, but for a pro-skater client this is a dream home quickly coming true. The architects of Air Architecture, venturing into new territory with this unique design, modeled aspects of the house ahead of time in order to test their fitness in terms of slopes, angles and materials that would both suit a human abode and be appropriately durable for real skateboarding use.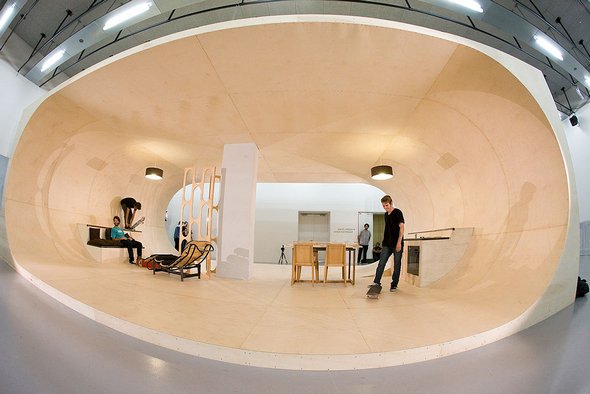 In the yet-unfinished design, there is hardly a spot in these spaces that one could not grind or skate on or jump or flip from. This includes not only skateboardable walls but also built-in furniture designed specifically to the purpose.
In fact, the final home will have continuous curves, rails and surfaces for skaters to move entirely into, through and around the residence. A complete circuit will weave through the kitchen into living and dining rooms and back out through a bedroom and bathroom (assuming all doors are left open along the route, inside and out). Various local woods, bent and warped as needed, will conform to the needs of the skater client, and make this a truly one-of-a-kind interior (and exterior) house design.