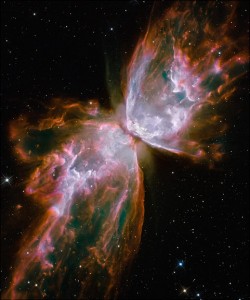 NASA has successfully tested the first deep space communications network modeled on the Internet. Working as part of a NASA-wide team, engineers from NASA's Jet Propulsion Laboratory in Pasadena, Calif., used software called Disruption-Tolerant Networking, or DTN, to transmit dozens of space images to and from a NASA science spacecraft located about more than 32 million kilometers (20 million miles) from Earth. This is the first step in creating a totally new space communications capability, an interplanetary Internet, said Adrian Hooke, team lead and manager of space-networking architecture, technology and standards at NASA Headquarters in Washington. NASA and Vint Cerf, a vice president at Google, Inc., in Mountain View, Calif., partnered 10 years ago to develop this software protocol. The DTN sends information using a method that differs from the normal Internet's Transmission-Control Protocol/Internet Protocol, or TCP/IP communication suite, which Cerf co-designed. Read more
You MUST see cool photo galleries handpicked for YOU!
Mi-24 'Hind'
Experience the full might of Soviet Union: Mi-24 'Hind' heavy attack helicopter, also known as 'Aligator'. Developed in late sixties this helicopter is not only big and strong but also heavily armed and versatile. If you fancy a chopper and airplane in the same time, buy one of these: it can land as airplane.
Keep receipt though if your tires worn off. Read more
You MUST see cool photo galleries handpicked for YOU!