Mi-24 'Hind'
Experience the full might of Soviet Union: Mi-24 'Hind' heavy attack helicopter, also known as 'Aligator'. Developed in late sixties this helicopter is not only big and strong but also heavily armed and versatile. If you fancy a chopper and airplane in the same time, buy one of these: it can land as airplane.
Keep receipt though if your tires worn off.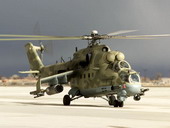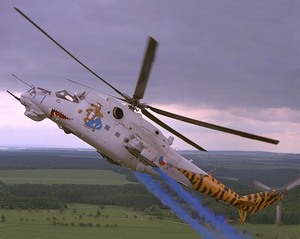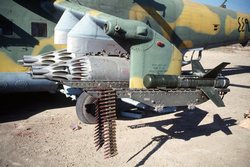 Development
During the early 1960s, it became apparent to Soviet designer Mikhail Leontayevich Mil that the trend towards ever-increasing battlefield mobility would result in the creation of flying infantry fighting vehicles, which could be used to perform both fire support and infantry transport missions. The first expression of this concept was a mock-up unveiled in 1966 in the experimental shop of the Ministry of Aircraftâ's factory number 329 where Mil was head designer. The mock-up designated V-24 was based on another project, the V-22 utility helicopter, which itself never flew. The V-24 was similar in layout and configuration to the UH-1A Huey, with a central infantry compartment that could hold eight troops sitting back to back, and a set of small wings positioned to the top rear of the passenger cabin, capable of holding up to six missiles or rockets, with a twin-barreled GSh-23L cannon fixed to the landing skid.
Mil proposed the design to the heads of the Soviet armed forces, and while he had the support of a number of strategists in the armed forces, he was opposed by several more senior members of the armed forces who believed that conventional weapons were a better use of resources. Despite the opposition, Mil managed to persuade the defence ministerâ's first deputy, Marshal Andrey A. Grechko, to convene an expert panel to look into the matter. While the panelâ's opinions were mixed, supporters of the project eventually held sway, and a request for design proposals for a battlefield support helicopter was issued.Mil engineers prepared two basic designs: a 7-ton single-engine design and a 10.5-ton twin-engine design, both based on the 1,700 hp Izotov TV3-177A turboshaft. Later, three complete mock-ups were produced, along with five cockpit mock-ups to allow the pilot and weapon station operator positions to be fine-tuned.
Design
The core of the aircraft was derived from the Mil Mi-8 (NATO reporting name 'Hip'), two top-mounted turbo shaft engines driving a mid-mounted 17.3 m five-blade main rotor and a three-blade tail rotor. The engine configuration gave the aircraft its distinctive double air intake. Original versions have an angular greenhouse-style cockpit; Model D and later have a characteristic tandem cockpit with a 'double bubble' canopy. Other airframe components came from the Mi-14 'Haze'. Two mid-mounted stub wings provide weapon hard points, each offering three stations, in addition to providing lift. The load-out mix is mission dependent; Hinds can be tasked with close air support, anti-tank operations, or aerial combat. The body is heavily armored and the titanium rotor blades can resist impacts from .50 caliber (12.7 mm) rounds. The cockpit is over pressurized to protect the crew in NBC conditions.
F-16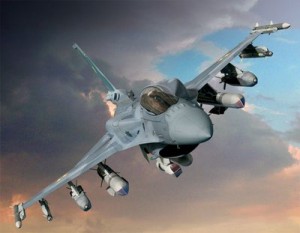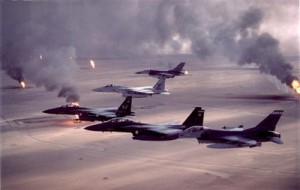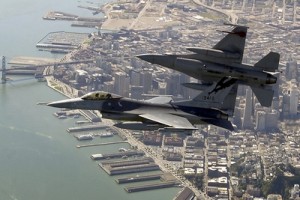 You like falcons, you want them to fight: F-16 fighting Falcon is the perfect formula then. Late seventies introduction means nothing to it: it's equiped with modern electronics and can reach 2.000 km/h speed, enough to have a nice ride. When you run out of fuel, just look for some air tanker: problem is solved.
The F-16 is a single-engined, supersonic, multi-role tactical aircraft. The F-16 was designed to be a cost-effective combat 'workhorse' that can perform various kinds of missions and maintain around-the-clock readiness. It is much smaller and lighter than its predecessors, but uses advanced aerodynamics and avionics, including the first use of a relaxed static stability/fly-by-wire (RSS/FBW) flight control system, to achieve enhanced maneuver performance. Highly nimble, the F-16 can pull 9-g maneuvers and can reach a maximum speed of Mach 2+. The F-16 is equipped with an M61 Vulcan 20 mm cannon in the left wing root, and early models could be armed with up to six AIM-9 Sidewinder heat-seeking short-range air-to-air missiles (AAM), including a single missile mounted on a dedicated rail launcher on each wingtip. Some variants can also employ the AIM-7 Sparrow long-range radar-guided AAM, and more recent versions can be equipped with the AIM-120 AMRAAM. It can also carry other AAM; a wide variety of air-to-ground missiles, rockets or bombs; electronic countermeasures (ECM), navigation, targeting or weapons pods; and fuel tanks on eleven hardpoints under the wings and fuselage eight under the wings and three under the fuselage.
You MUST see cool photo galleries handpicked for YOU!