Take a deep breath before you try swimming a lap in the swimming pool at the San Alfonso del Mar resort in Chile. The San Alfonso del Mar resort is situated on Chile's southern coast, 100 km west of Santiago.
Already drawing the crowds in the South American resort of San Alfonso del Mar in Chile, this artificial lagoon and swimming pool is eight hectares in size and contains an incredible 250,000 cubic meters of water. Acknowledged by Guinness World Records as being the world's largest swimming pool, the lagoon trounces all other record holders in the category, including the Orthlieb pool in Casablanca, Morocco, itself a huge 150 meters by 100 meters – the San Alfonso pool is 1km in length.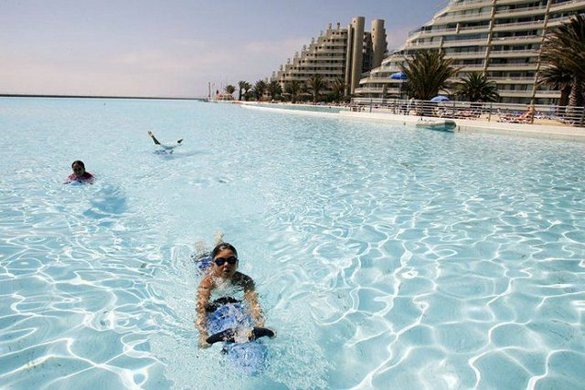 The revolutionary clear water artificial lagoons, transparent to a depth of 35 meters and unprecedented in design and construction methods, are the brainchild of Crystal Lagoons founder, biochemist and Chilean businessman Fernando Fischmann. Equivalent in size to an incredible 6,000 standard domestic pools, details of its technology are to be unveiled for the first time at Cityscape Dubai later this month.
The lagoon, cost an estimated $US1.5 billion ($1.74 billion) to build.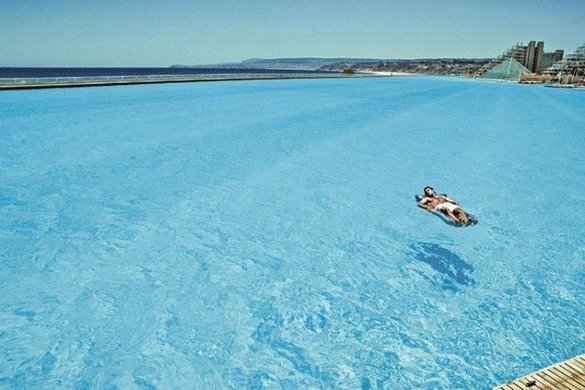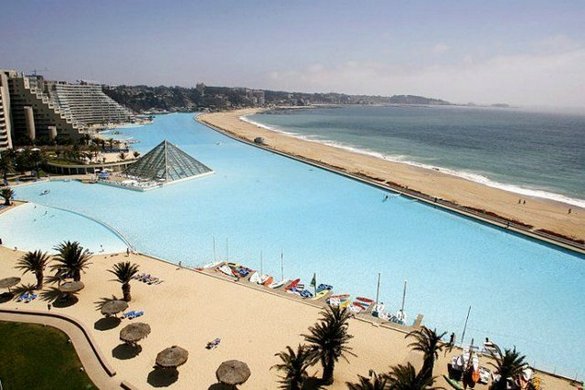 The water in summer is kept at 26 degrees Celsius, around nine degrees warmer than the chilly Chilean ocean. For you to fully enjoy your luxurious vacation.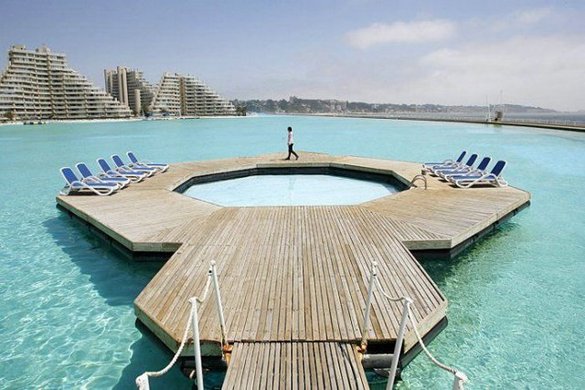 The man-made lagoon is so large that resort guests make use of small boats and kayaks to ferry around the pool.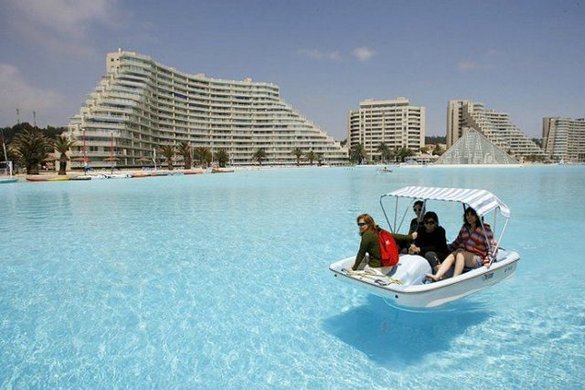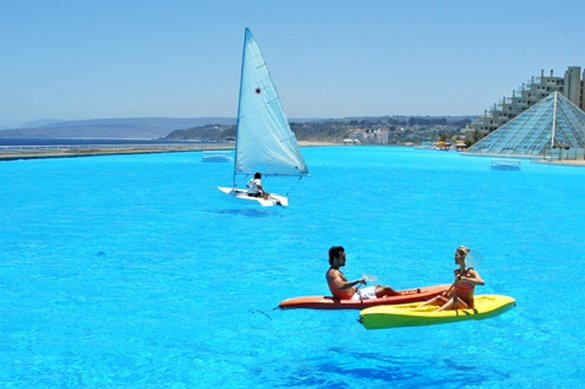 But don't worry about having to clean the pool.
The lagoon technology can "harvest, filter and permanently recirculate ocean water," according to the Chilean biochemist Fernando Fischmann who heads Crystal Lagoons Corporation, the company which developed the technology.
While there is plenty of room to swim in the pool, visitors can also cruise across the lagoon on small boats.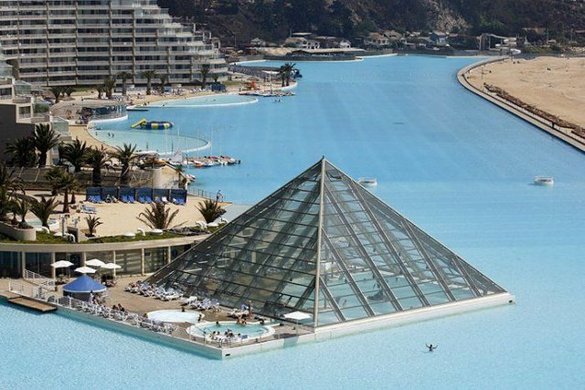 The pool took five years to build, cost nearly £1billion and the annual maintenance bill will be £2million. It can harvest, filter and permanently recirculate ocean water by itself.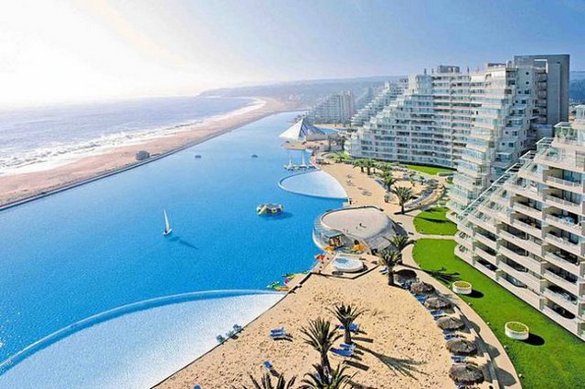 The man-made saltwater lagoon has been attracting huge crowds to the San Alfonso del Mar resort at Algarrobo since it opened last month. Its turquoise waters are so crystal clear that you can see the bottom even in the deep end.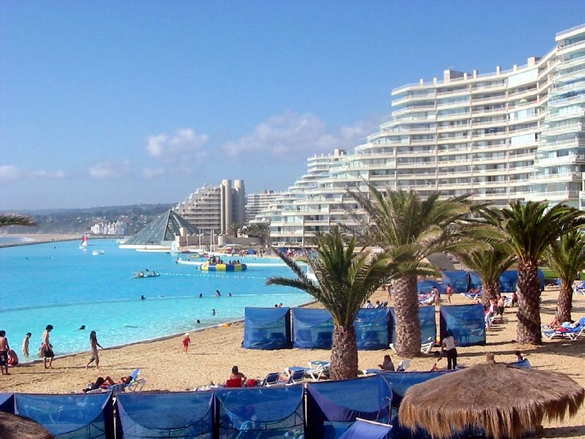 I have decided where to go on my vacation next! I just have to pick the right hotel in this resort.  Just kidding, any would do just fine.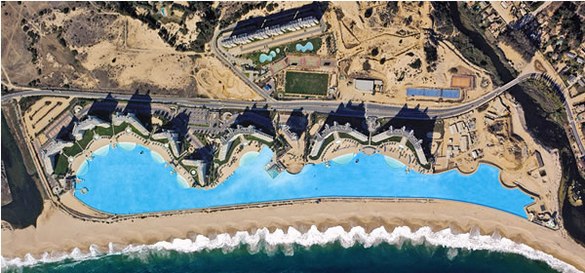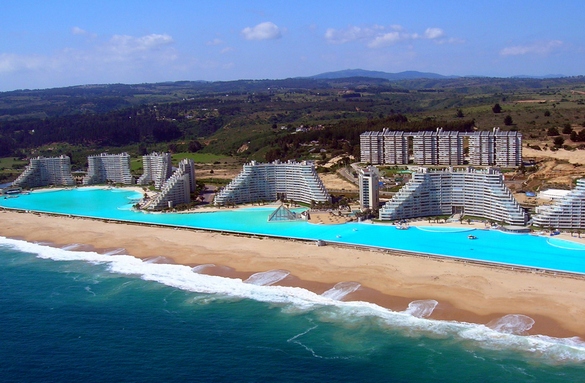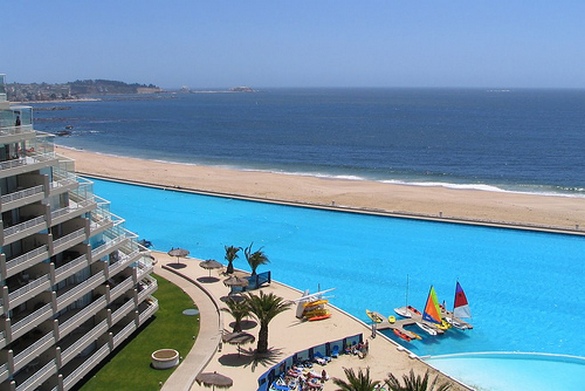 You MUST see cool photo galleries handpicked for YOU!