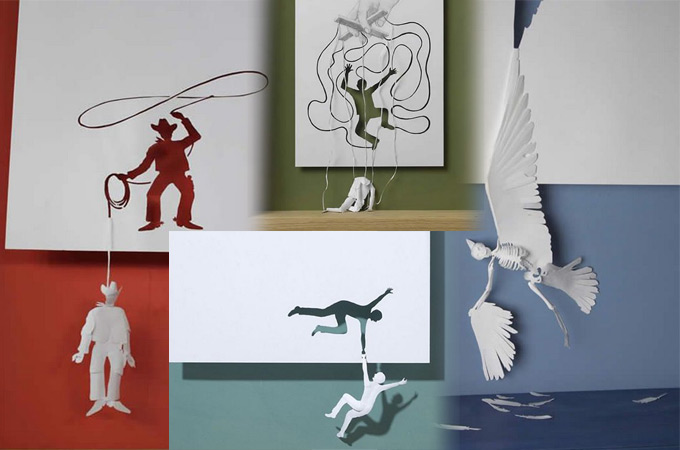 100 Paper-Made Wonders is an ultimate collection of simple, yet impressive sculptures made by paper cutting to create fascinating scenes. Artist is not only required to have a vision of the object he needs to create, he also needs to be an expert in cutting and folding paper and last but not least have a great deal of patience. The tenderness of these paper sculptures can be felt while looking at them literally hanging from the paper they have been cut from. You'll be able to find a broad range of sculptures artwork in these works: from angels to skeletons, from cowboys to puppets, from insects to birds. There are even paper sculptures of complex building and building elements: staircases, medieval towers and whole castles. Each image will fill you with more amazement as you go through this photo gallery.
The artists name for these paper sculptures is Peter Callesen. His site is here
http://www.petercallesen.com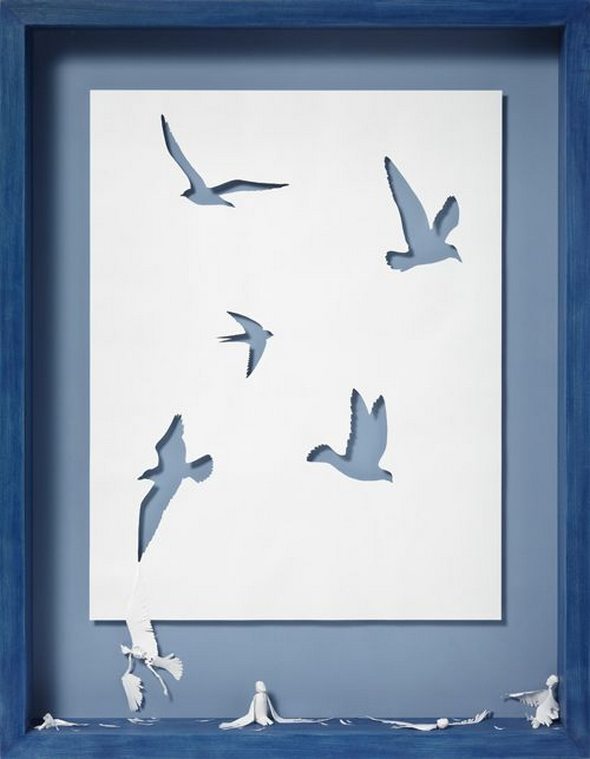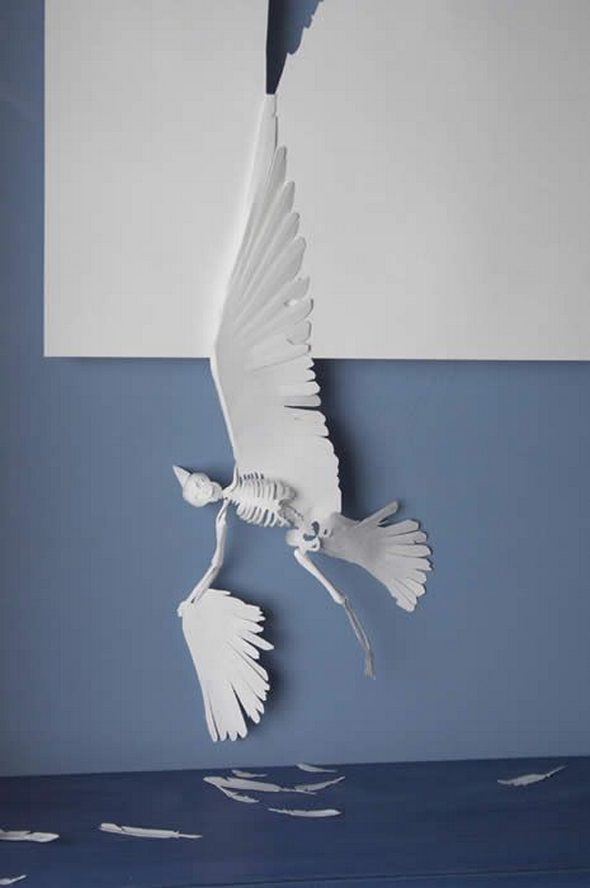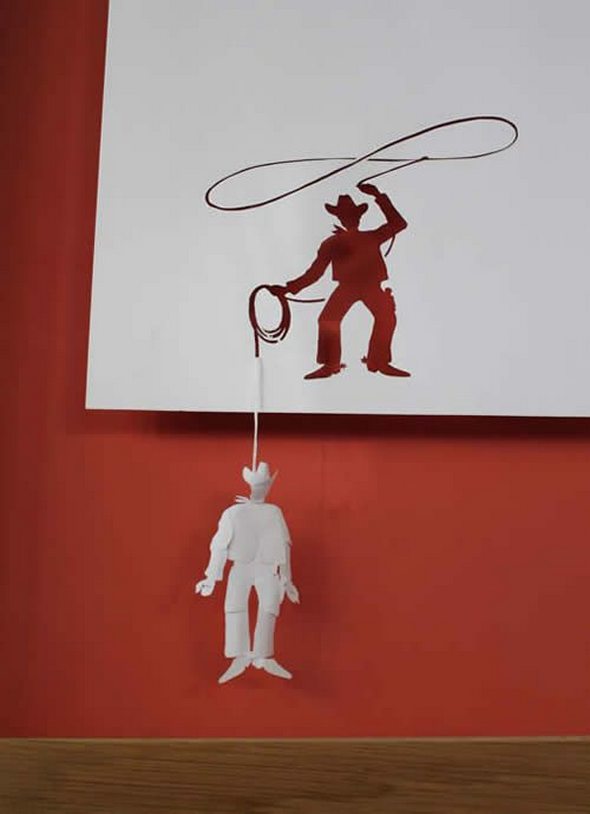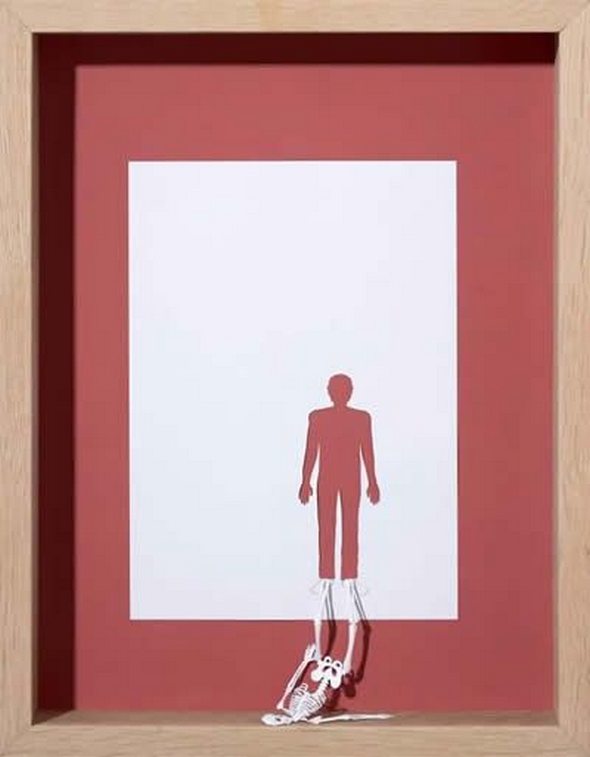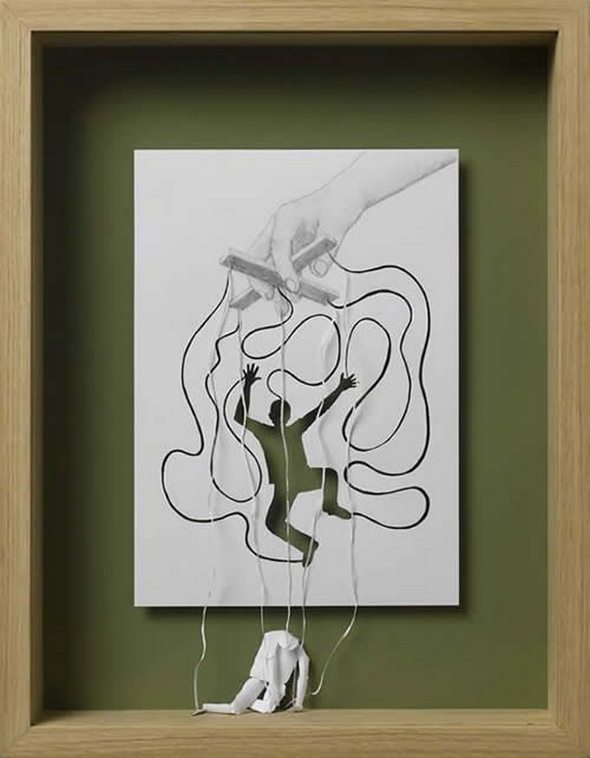 Read more
Cassette Tape Art is fascinating new technique for creating impressive artwork. These creative works have been created by artist Erika Simmons. In this series artist uses tape to create most entertaining black and white images of famous people from the worlds of music, movie and even science and classic music. In this gallery you can find celebrities like: Michael Jackson, Nick Cave, Bob Marley, Merlin Monroe, Jimmy Hendrix and many other.
Here technique proves to be very innovative and fascinating, but it is not only this innovative tape material that is fascinating about these portraits. The end result, awesome designed sculpture/paintings,  is what create and aura of coolness around these works. The level of details in this portraits captivates with its beauty.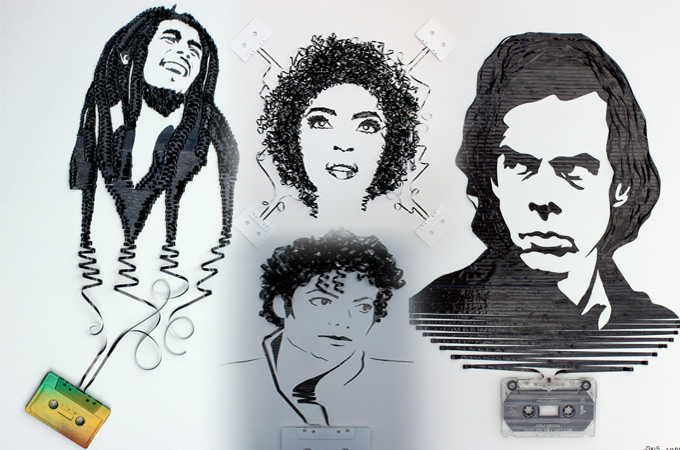 About the artist: Erika Iris Simmons (pseudo name iri5) is an imaginative painter and sculptor who is driven by an incredible passion for self-expression through art. Her works are often noted for their unique and innovative style that focuses on recycling found materials, such as old cassettes and used books. Her use of such a variety of techniques and materials make her work an excellent choice for a wide range of projects and purposes. iRI5′s art has also been featured on major websites and in newspapers and magazines all over the world.
These images and many other Cassette Tape Art works can be found here.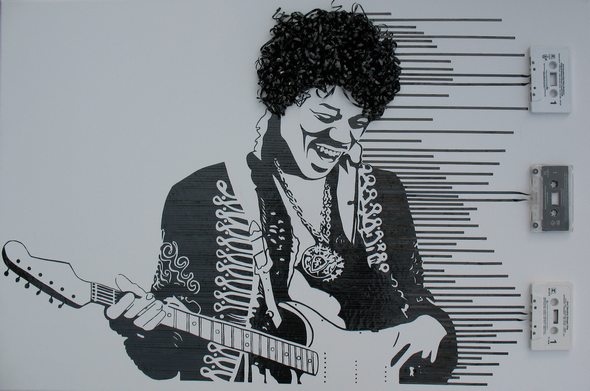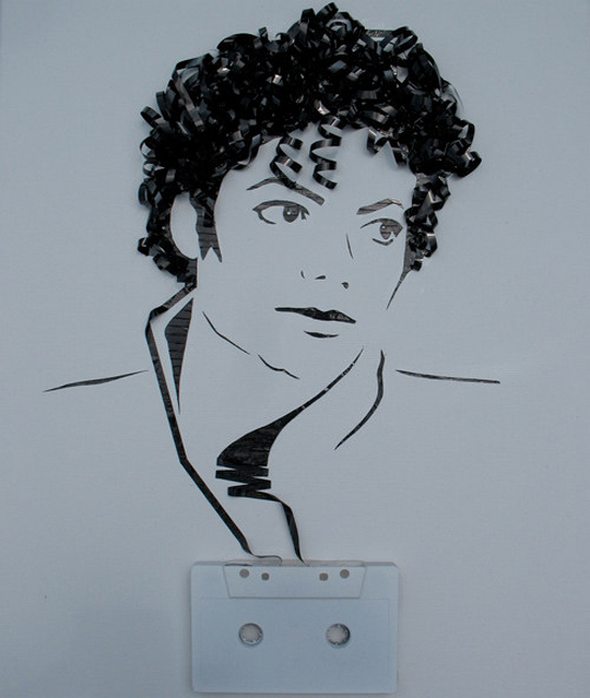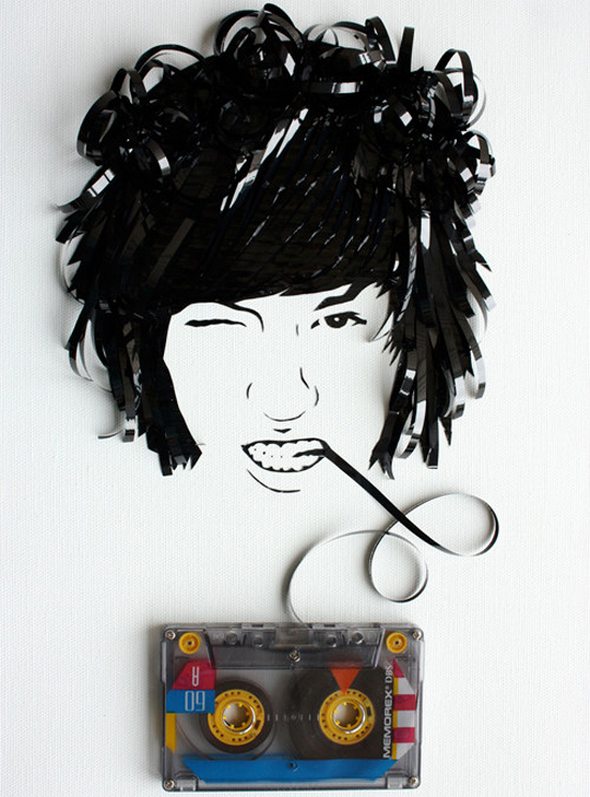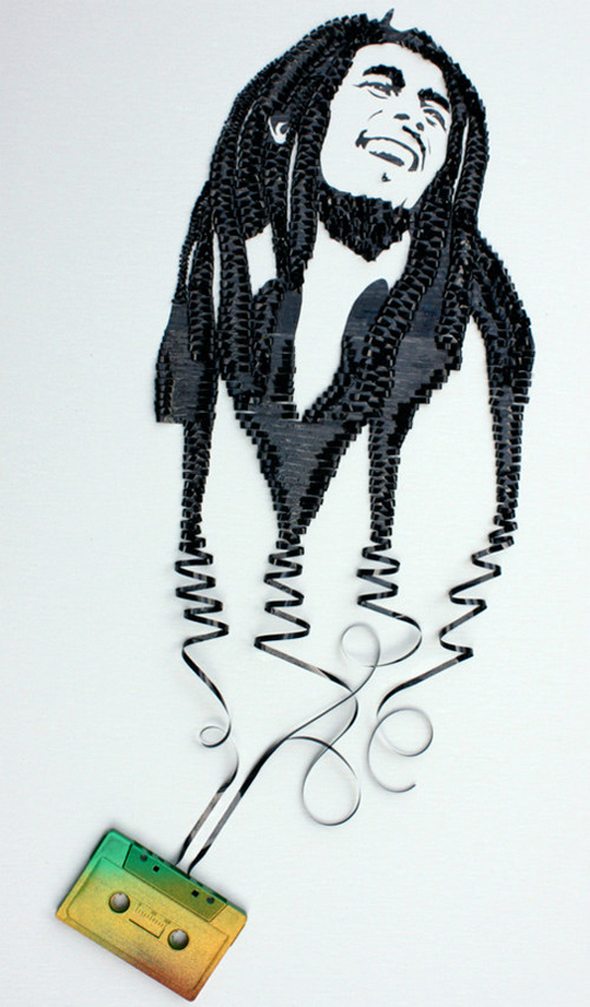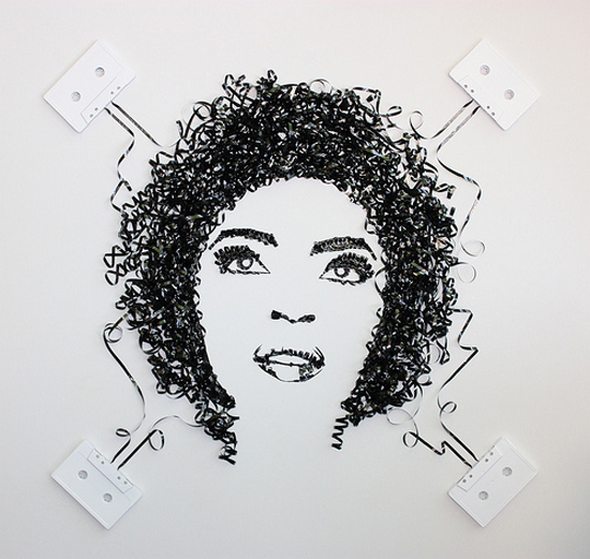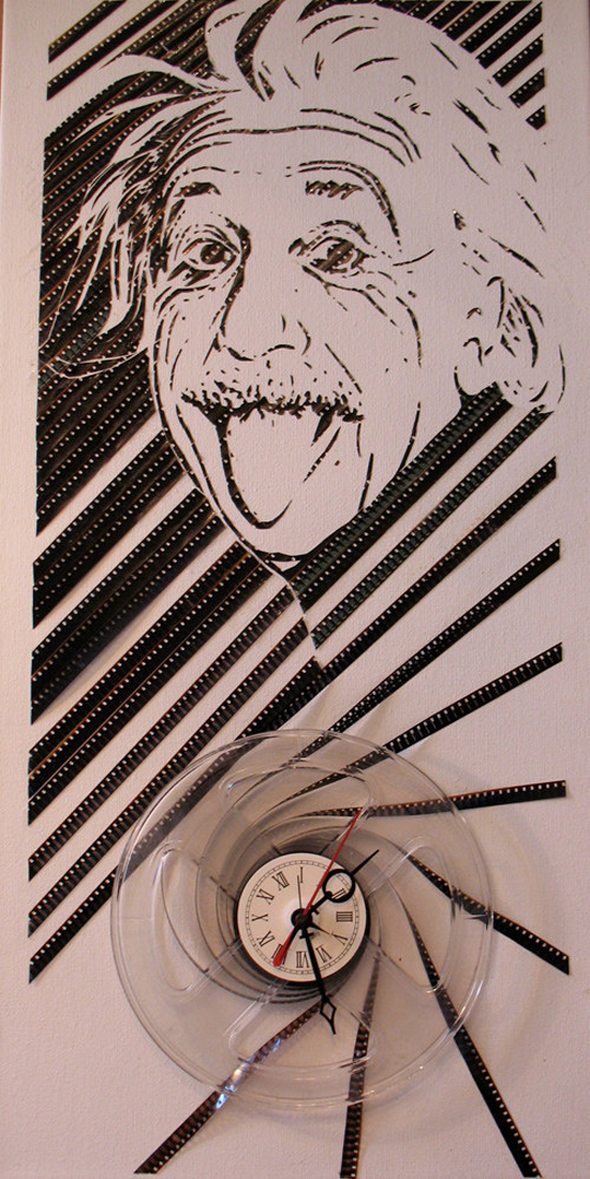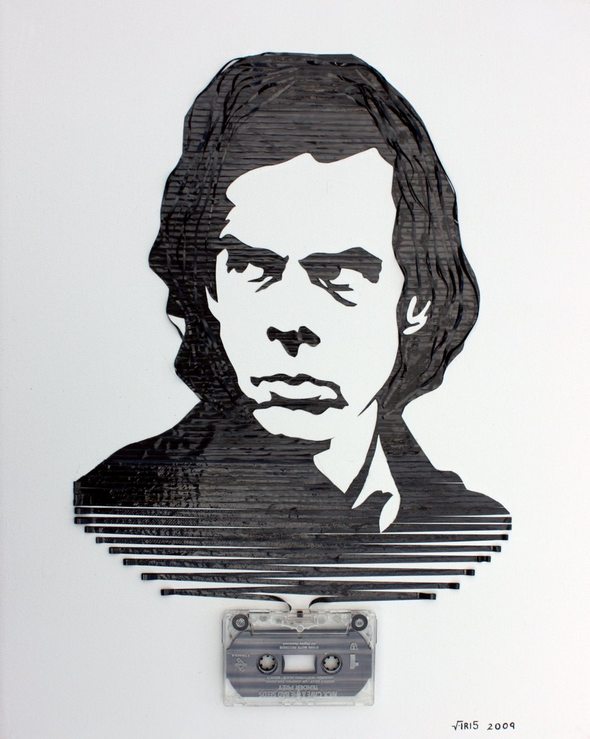 Read more
American artist Nathan Sawaya built since the year 2000, giant Lego sculptures from tens of thousands of parts. Real works of art in small brick standard designed for museums or for pleasure.

Really cool sculptures are being produced by this talented artists. He is currently  showcasing some of his most personal works at the Agora Gallery in New York City. The exhibition, titled "BRICK BY BRICK: The LEGO Brick Sculpture of Nathan Sawaya" will be from March 23-April 13, 2010.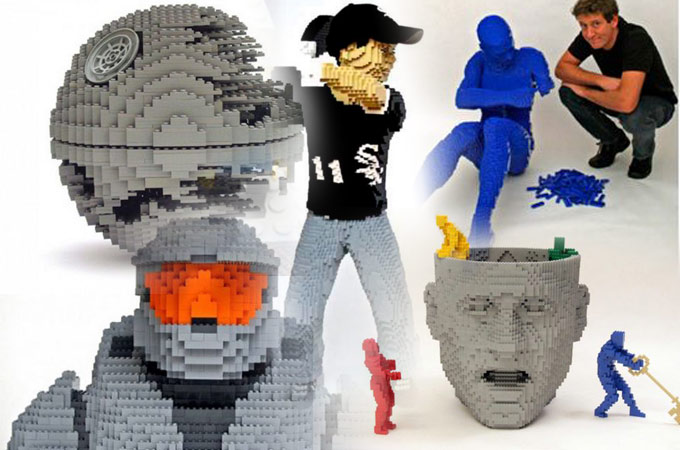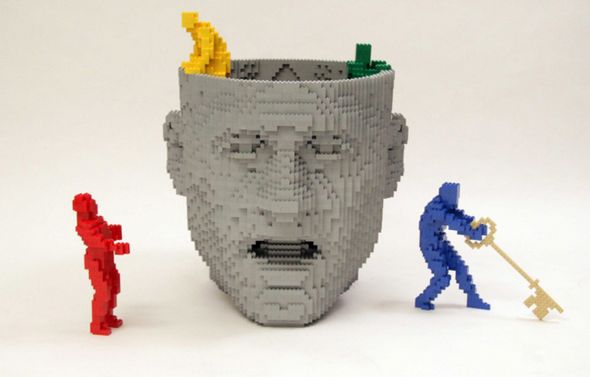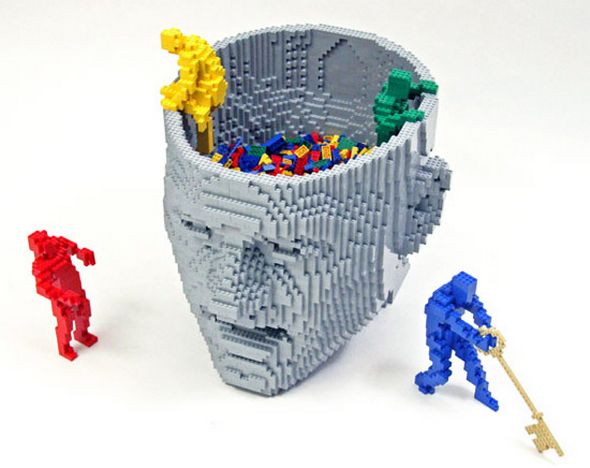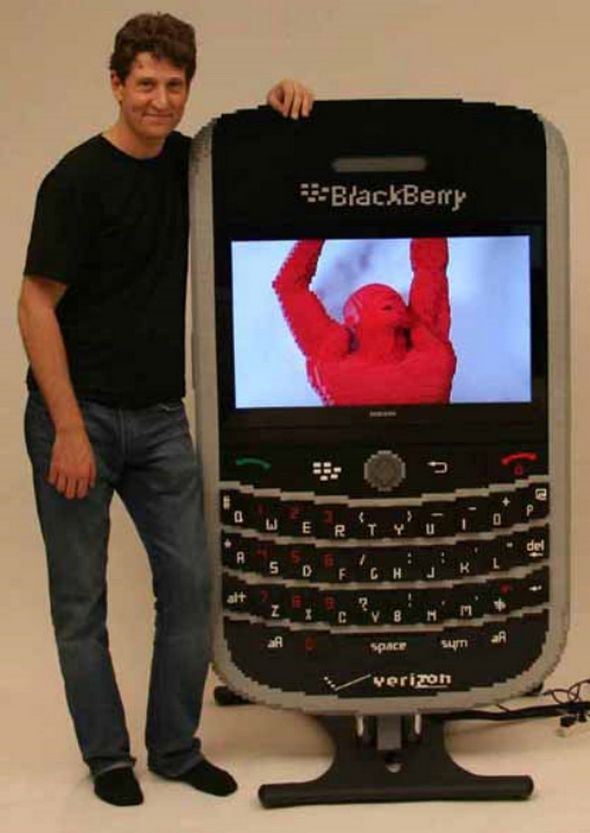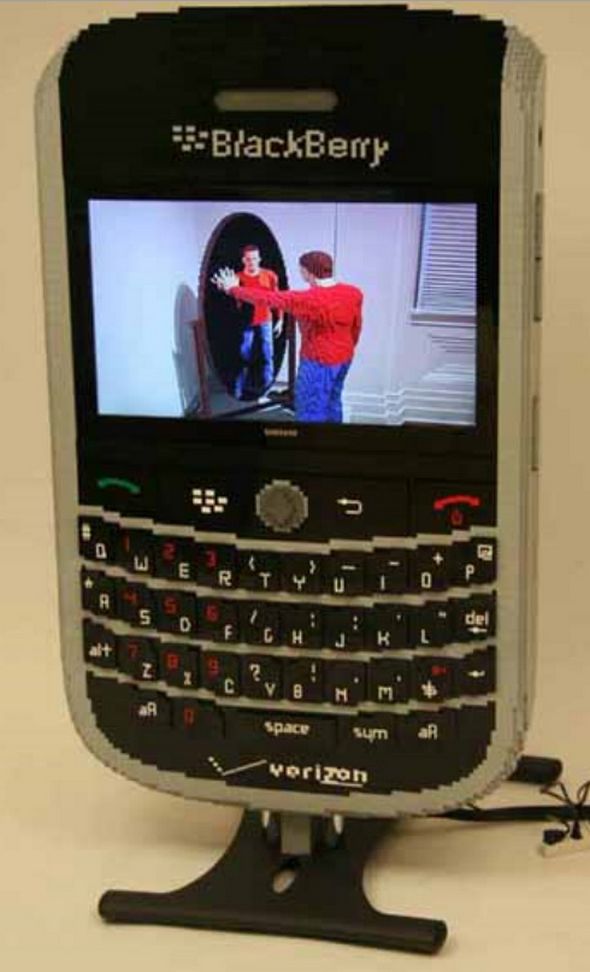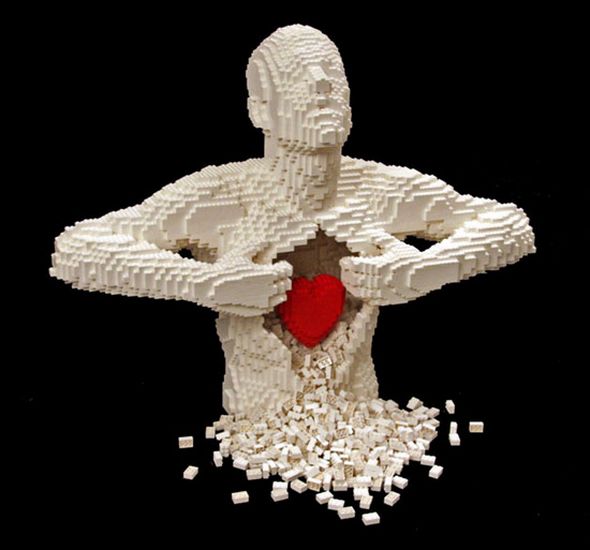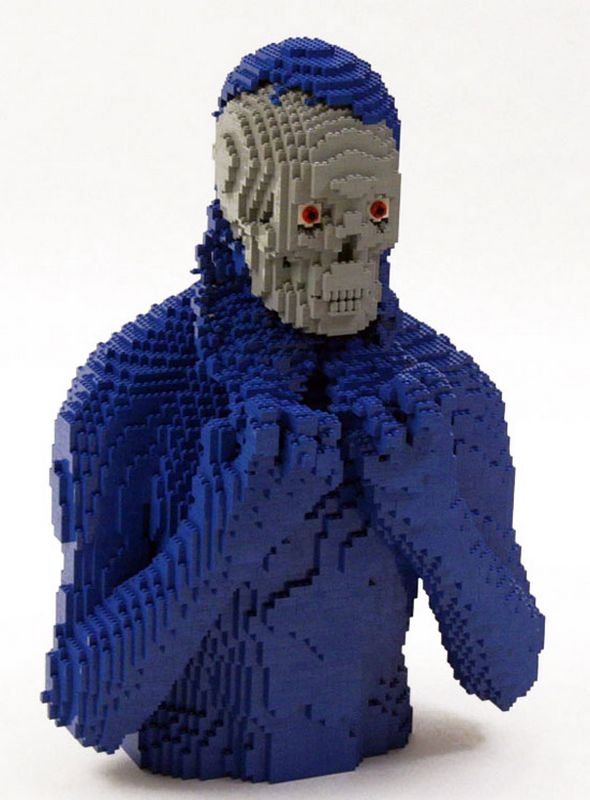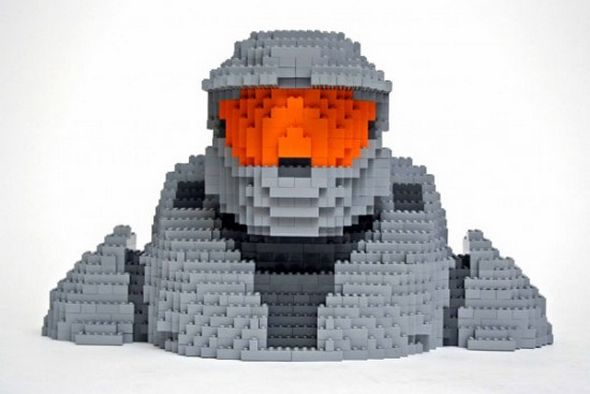 Read more
Modern art employs all types of materials for creating the most interesting sculptures.
Canstruction is one of those types of art. Is it necessary to say that canstruction is forming sculptures using only cans. These sculptures can be funny, complex, creative but they have one common feature; they are all magnificent artworks that could make any museum exhibition area the most popular art exhibit available.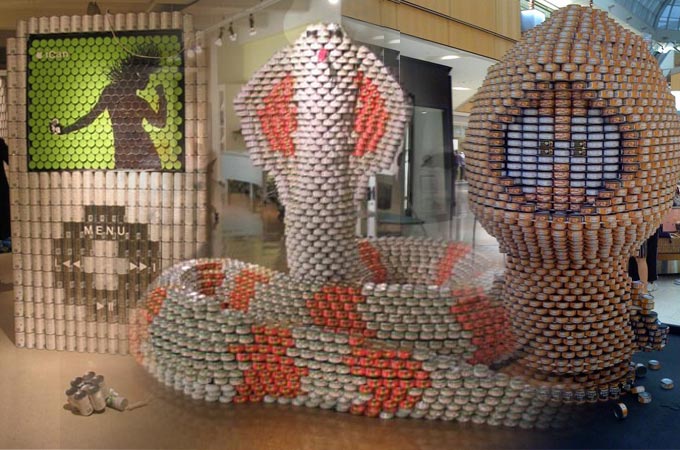 We were amazed by what these artists could do using cans, so we collected 70 most amazing examples of canstructon sculptures. Enjoy this cool gallery.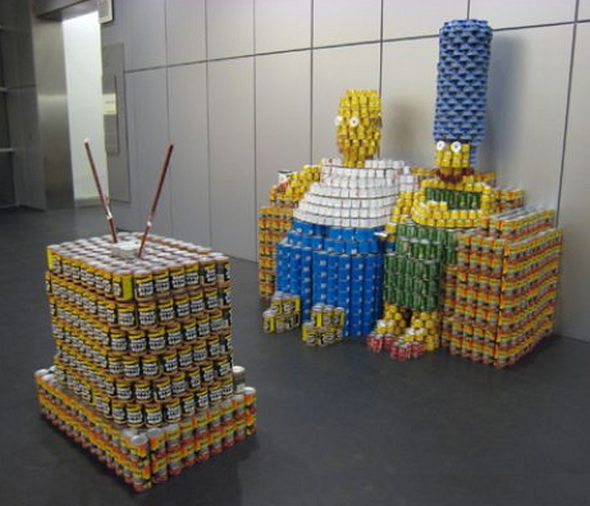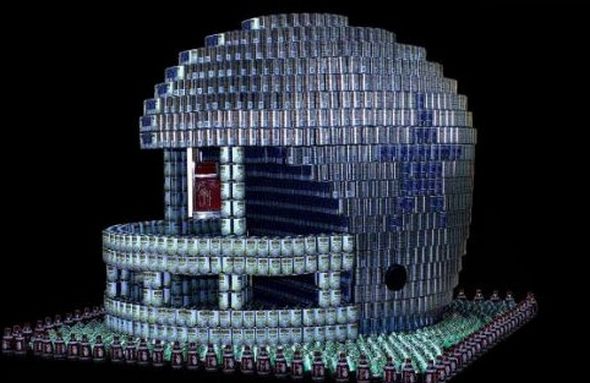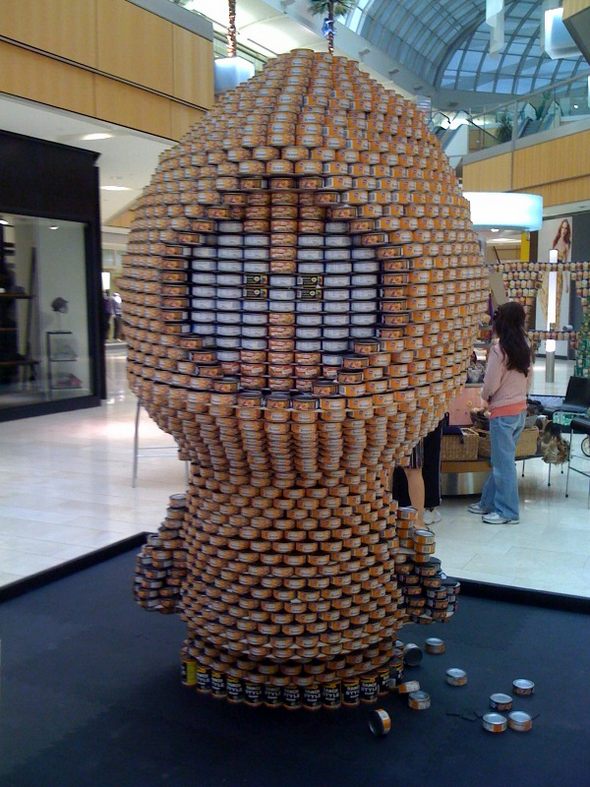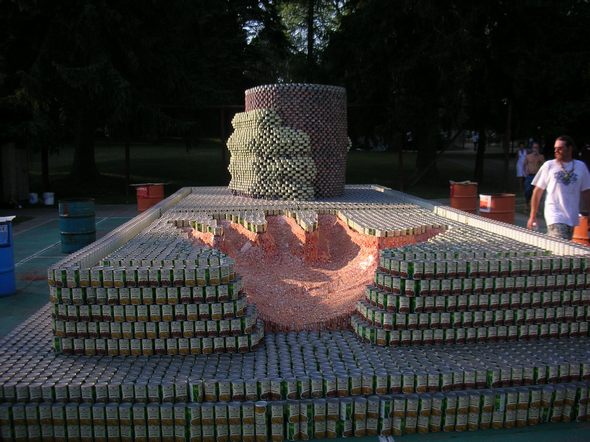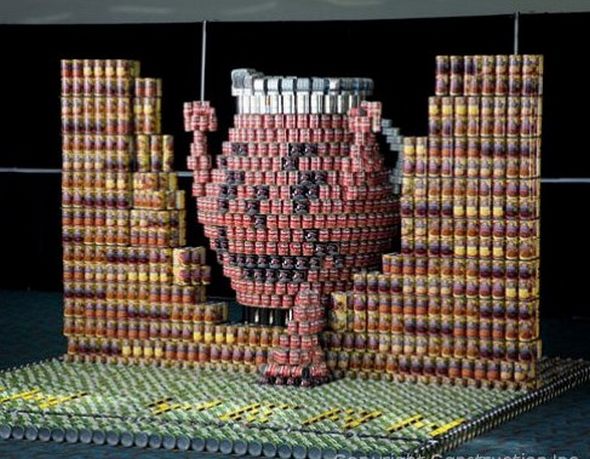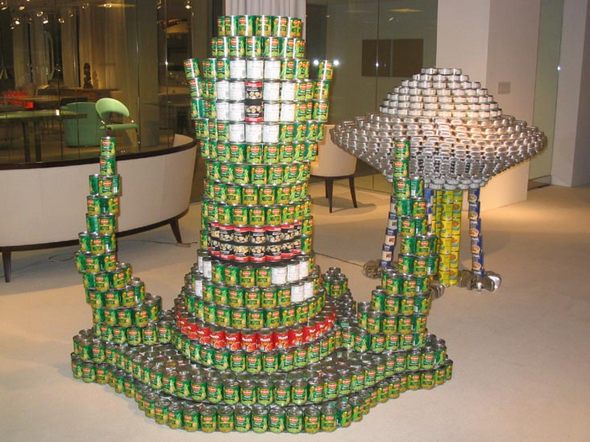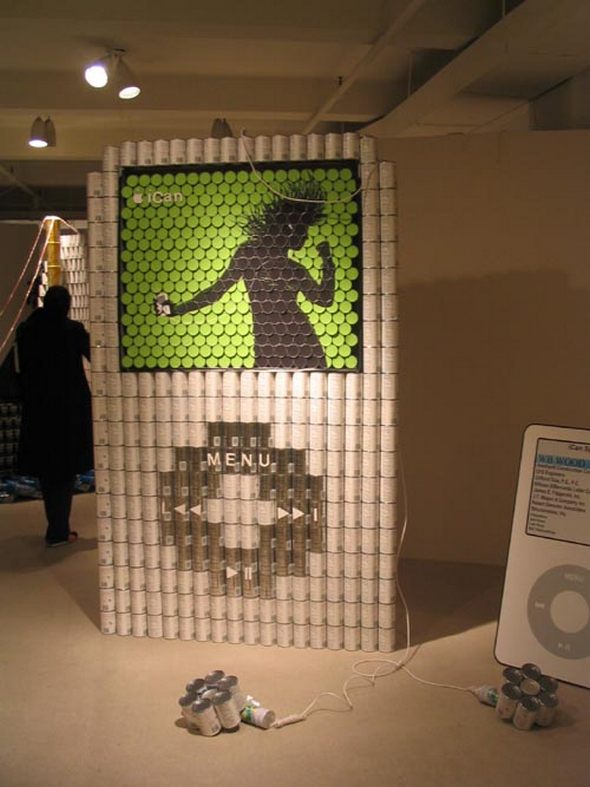 There is a point, when sculpturing, at witch taking great care of details leads to creating hyper realistic artwork that cannot be set apart from the real world objects it is supposed to represent. Ron Muech sculptures are just that, extraordinary realistic art that seems real even after looking at it for the tenth time. The design of his creative sculptures can be explained just using this word: superb!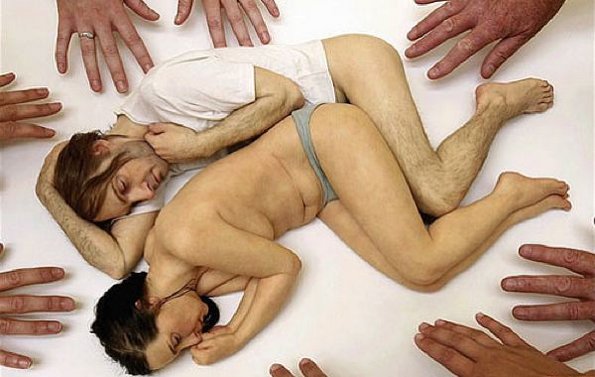 About the artist:
Ron Mueck was born on 1958 is an Australian hyper realist sculptor working in Great Britain. Mueck's early career was as a model maker and puppeteer for children's television and films, notably the film Labyrinth for which he also contributed the voice of Ludo.
Mueck moved on to establish his own company in London, making photo-realistic props and animatronics for the advertising industry.
Although highly detailed, these props were usually designed to be photographed from one specific angle hiding the mess of construction seen from the other side. Mueck increasingly wanted to produce realistic sculptures which looked perfect from all angles.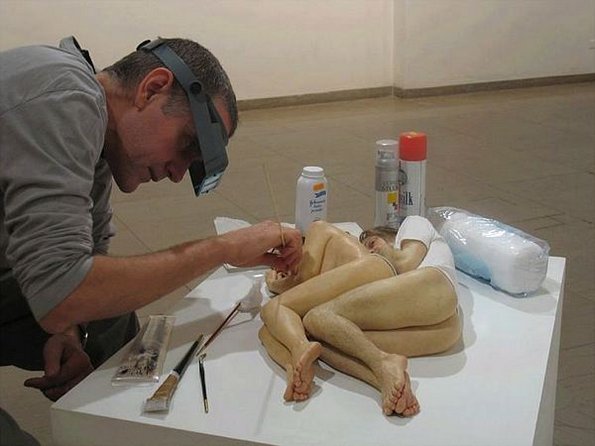 In 1996 Mueck transitioned to fine art, collaborating with his mother-in-law, Paula Rego, to produce small figures as part of a tableau she was showing at the Hayward Gallery. Rego introduced him to Charles Saatchi who was immediately impressed and started to collect and commission work.
This led to the piece which made Mueck's name, being included in the Sensation show at the Royal Academy the following year. Dead Dad is a rather haunting silicone and mixed media sculpture of the corpse of Mueck's father reduced to about two thirds of its natural scale. It is the only work of Mueck's that uses his own hair for the finished product.
Mueck's sculptures faithfully reproduce the minute detail of the human body, but play with scale to produce disconcertingly jarring visual images. His five meter high sculpture Boy 1999 was a feature in the Millennium Dome and later exhibited in the Venice Biennale.
In 2002 his sculpture Pregnant Woman was purchased by the National Gallery of Australia for $800,000.
Check out the photographs that speak louder than words about the detail levels and the creativeness of his artsy sculptures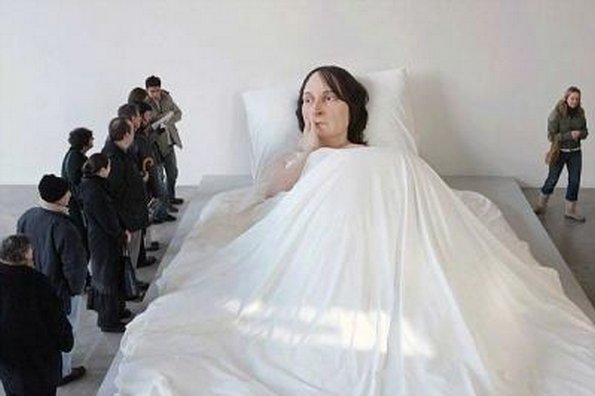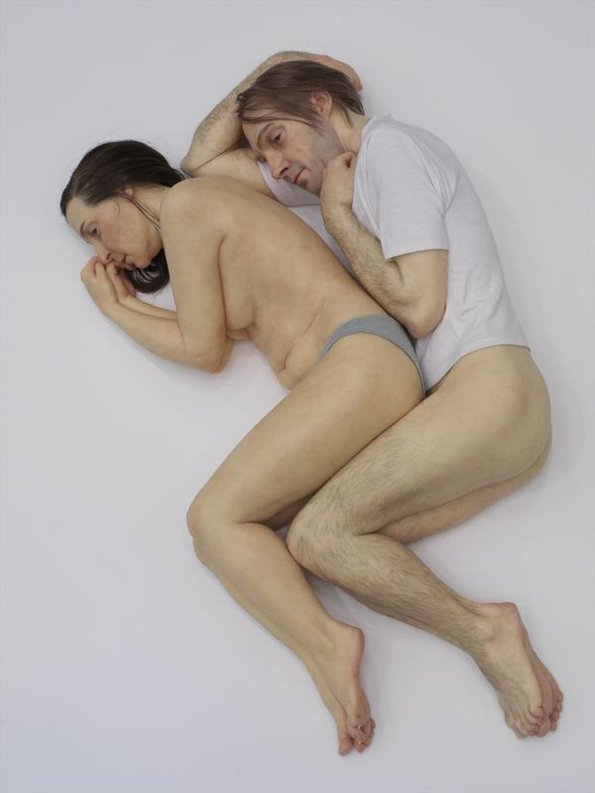 Read more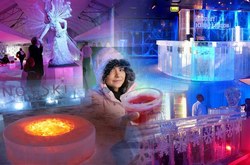 Ice Bar is a drinking establishment primarily made of ice, and bring tons of fun to its lucky visitors. The bars usually contain ice sculptures and other formations and are kept at low temperatures to hinder melting. Mostly a novelty, the ice bar is often considered a tourist destination, as well as a display of monster air cooling systems power!
Here are the pictures of ice bars well known icebars from around the world. I hope this will interest you to visit the one nearest to your home because a visit to ice bar is a unique experience. Judge by yourself.
USA, Orlando
The Ice-bar in Orlando is the first and largest permanent ice bar in America. The ice sculptures are created by a Master Carver who has won awards in the international Ice Carving Olympics and also in Harbin, China at the worlds largest ice festival. Made from over 50 tons of ice, the interior features a crystal palace with throne, fireplace, sofa and chairs all carved into exquisite designs. The cocktails are served in glasses molded from clear ice and are a special design created by a local supplier.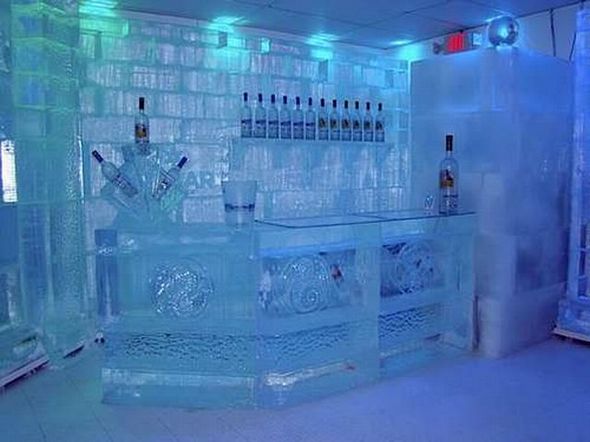 Sweden, Stockholm
The Absolut Ice Bar in Stockholm, Sweden gives new meaning to the phrase "on the rocks." Drinks are served in fist-sized hollow ice cubes, and the barmaid plunks them down on a bar made of clear ice blocks. The walls and tables are also built with ice harvested from the Torne River on the border between Sweden and Finland, where the Ice Bar's management has operated the widely publicized Ice Hotel in Jukkasjärvi since 1989. (The ice bar and its frozen furnishings are rebuilt every six months.)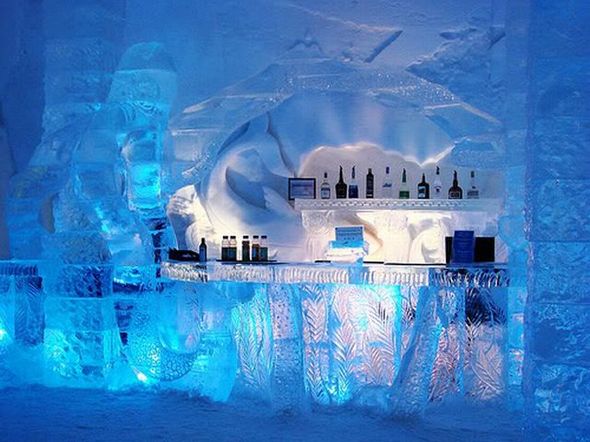 Read more
You MUST see these cool photo galleries!