Pilot's incredible escape from a jet crash in Canada has been captured on film and in a series of dramatic photographs. This happened during an afternoon practice session for an air show at the Lethbridge County Airport, near Alberta in Canada.
As Captain Brian Bews, 36, of the Royal Canadian Air Force performed a daring low pass of an airfield yesterday, his CF-18 fighter jet suddenly stalled. With only a split second before his plane hit the ground in giant ball of flame, this air force pilot miraculously managed to eject to safety. His quick reactions and his rocket-powered ejector seat saved his life as he was catapulted out of the stricken £30 million aircraft.
Captain Bews was taken to hospital, where he remains this weekend after landing hard and getting dragged across the runway by his parachute.
'He's in the hospital,' his sister-in-law, Heather Bews, said.
'His ego's hurting pretty bad, but we don't even care. We don't care about the plane, the show… we just care about him.'
The cause of the crash is so far unknown and there were no more details on the pilot's injuries.
Pilot Capt. Brian Bews ejects as his a CF-18 fighter jet plummets to the ground during a practice flight at the Lethbridge County Airport on Friday, July 23 for the weekend airshow in Lethbridge, Alberta, Canada. "He is alive and we believe right now that his injuries are non-life-threatening," Canadian Forces Capt. Nicole Meszaros told CBC News.
Lightning reactions: Royal Canadian Airforce Captain Brian Bews ejects to safety as his fighter jet stalls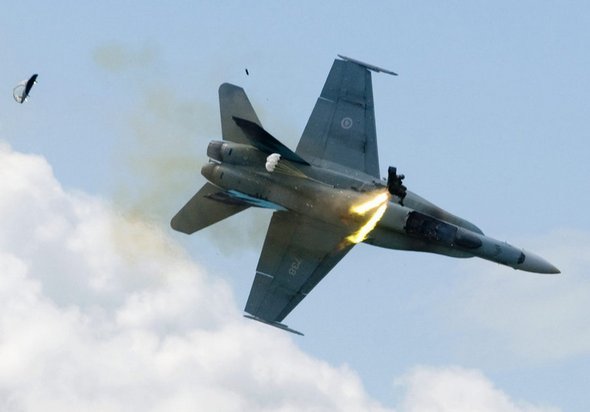 Going down: The £30m aircraft plummets to the ground at the Lethbridge County Airport, near Alberta in Canada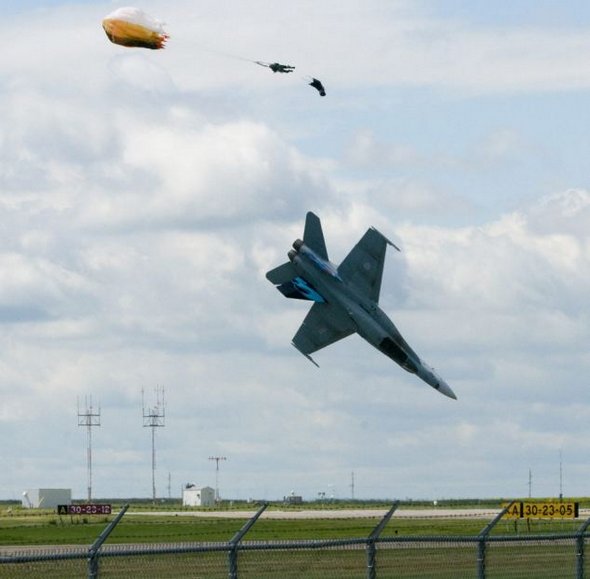 Read more
You MUST see these cool photo galleries!